Tools
Small scissors
Wire cutters + pliers
Baking paper
Pencil
Iron + board
Hair curling wand
Sponge with a silk covering
Medium dotting tool
Needle
Materials
Light blue cotton fabric
Black chiffon fabric
Gold Fabric
Dark blue/grey velvet fabric
Very thin jewellery wire – 5 lengths of 14cm, and 2 lengths of 3cm.
Bondaweb applique adhesive
Gold beads
Matching threads
Extra tips for the process
Use a piece of baking paper in between any fabric and the iron to prevent any glue transferring onto the iron surface. Also use baking paper on the ironing board for the same reason.
When fusing with the bondaweb, use a pressing motion with the iron, add steam if required.
Make sure all the wires are curved before placing them inside the petals.
Cut all the petals on the bias to prevent fraying.
Instructions
Download the pdf pattern by clicking this link.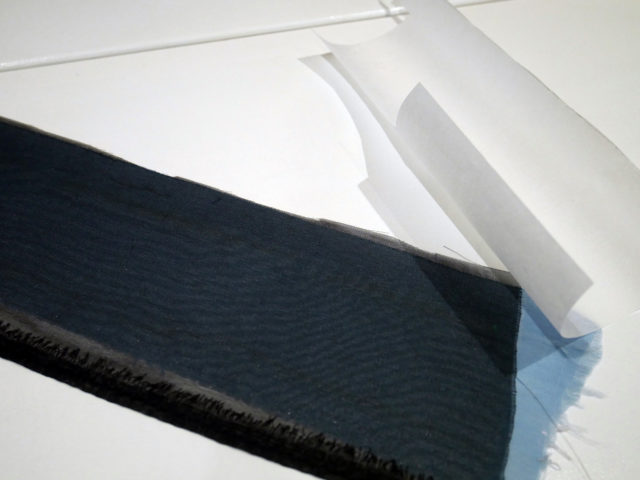 Prepare the petal and sepal front fabric by fusing together with bondaweb the cotton and chiffon.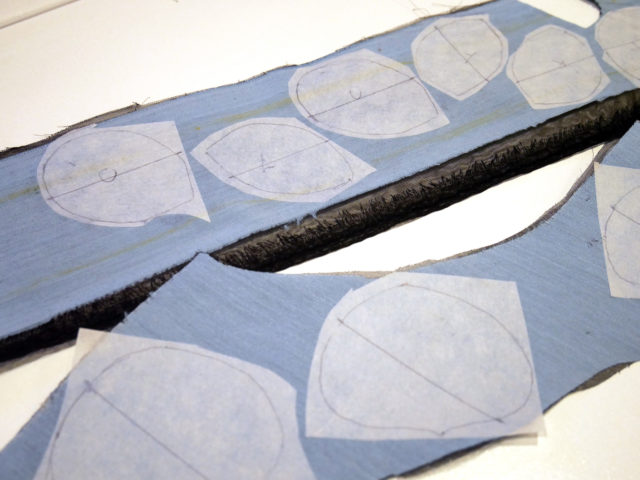 Draw all the pattern pieces onto the paper backing of the bondaweb. Cut out outside the lines of the pattern pieces.
Fuse together the bondaweb pieces to the wrong side of the fabrics. The main petals and sepals need to be fused to the cotton and chiffon, and the lip and anther cap need to be fused to the velvet.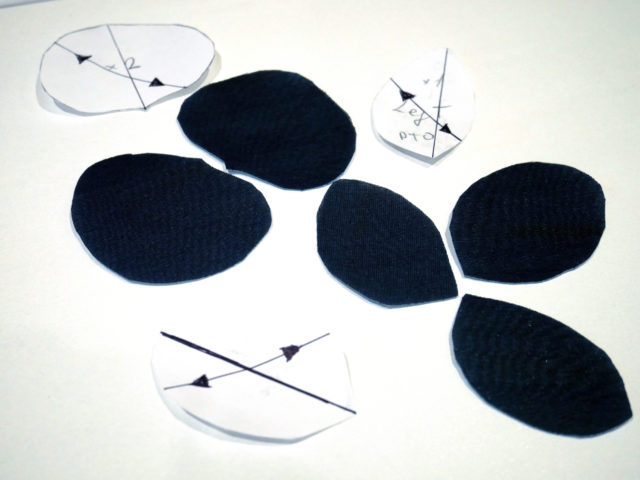 Now cut the patterns out on the lines, and then remove the bondaweb paper backing.
Position the wires onto the petals, sepals and lip and then fuse the patterns to the backing fabric, sandwiching the wires in between. Back the 2 main petals in plain black and the 3 sepals, lip and anther cap in a gold fabric. The lip will need to have 2 wires crossed at its centre. The anther cap requires no wire.
Cut the extra backing fabric off from around all the pattern pieces.
Using the hair curling wand tip, press into the centre of the petals and sepals (chiffon side up). Use the silk covered sponge underneath as a pillow. Do the same to the lip (gold side up).
Heat the anther cap with the iron + steam. Quickly transfer to the silk covered sponge and then use the dotting tool to shape the 2 halves (velvet side up).
Putting together the flower
Twist the wires of the 2 main petals together. Independently twist together the 3 sepals. Then twist the main petals to the sepals.
Sew 3 gold beads to the centre of the anther cap (velvet side). Sew the anther cap to the lip (gold side up). Then sew all this to the main petals and sepals.