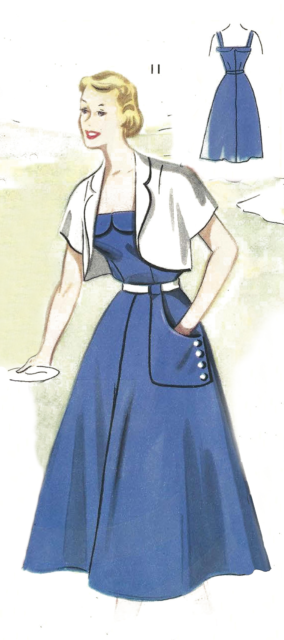 How I Started
This was my first time using the Haslam System, I found it really confusing. I made the Haslam block using the special curve ruler and the foundation drafting instructions. I was not satisfied with the fit – the Haslam Foundation does not take into account for body differences. For example, I think that as most patterns, it is meant for a pattern cup size B. I ended up using my own block (see instructions here).
The fabric is a printed poly-cotton from the 1970s USSR. My grandma gave it to me from her stash of fabric that she hasn't used up.
Process of drafting
For the skirt, I didn't use the Haslam pattern, but instead just used a self drafted A-line skirt pattern.
For the bodice back and front, I took the measurement from my side waist to the top of my bra band under my arm to determine how long the side of my bodice should be. I ignored the dart measurements on the diagram, as I was using my own block. I followed the measurements for the neckline and decorative collar. I made up a mock up just to check the fit, and found that I had gaping at the neckline, so I had to pivot that into the side dart. There were also extra notes on the last page of this booklet detailing that the collar was in double material, and that the shoulder straps should be 2.5cm wide. I sewed the straps to the bodice so they would cover my bra straps. I didn't use interfacing on the collar, however in hindsight I should have done. I also didn't make the pocket as in the illustration, as I didn't have enough fabric and also because I controversially dislike pockets in general.
Alterations
Adding to the side dart to take away gaping above the bust.
The straps don't stay up on my shoulders. I have narrow shoulders, and the bra I currently wear doesn't take this into account. I made the decision that I would rather cover my bra strap, than set the straps correctly for my frame. I can always re-sew the straps if I change my everyday bra to another brand. At the moment, this does mean that every time I wear this dress I use safety pins to pin the dress straps to the bra straps.
Finishing Details
Serged seams
Narrow Hem
Invisible Zipper
Tacking the collar to the bodice by hand
Accessories
True vintage headscarf from my grandmother
Suede leather shoes from DP Italia in London
Photos taken at Fryent Country Park, North-West London.