Very much a work in progress! Check back onto this post for updates.
Details
Serial Number: R218061
Model: 28K
Date: 1902
Decal: "Victorian"
Vibrating Shuttle
Low Bobbin Winder
Manual Tension Release
Coffin Lid Case
Hand Crank
Accessories
Screwdriver
Oil bottle
Key for the coffin case
6 shuttle bobbins
Shuttle bobbin bullet case
Assorted sewing machine needles (from the 1960s)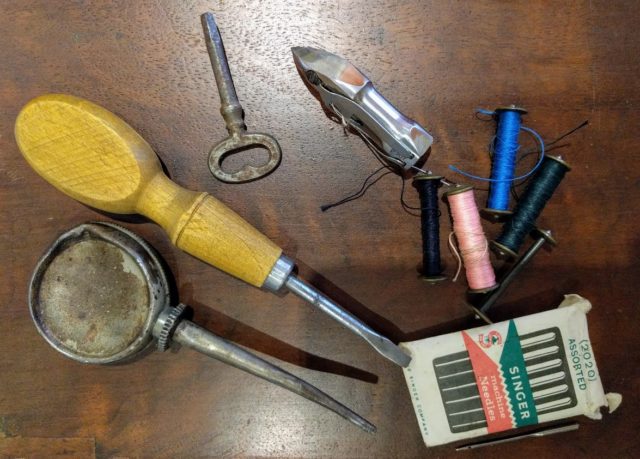 So Far I have:
Dusted the whole thing, using a soft bristle painting brush.
Cleaned the wooden coffin case and wooden base. Using warm water and a mild washing up liquid solution.
Taken out the worst of the dust bunnies and lint build up from the bobbin area.
Cleaned the body of the machine with sewing machine oil.
Unstuck the further bobbin slide plate. Using WD 40.
Completed on the 6th March 2020
Cleaning the bobbin slide plates, and needle plates. Using an all purpose power cream surface cleaner branded "Bar Keepers Friend", and isopropyl alcohol at 99.9% diluted with water.
Take off and clean the hand crank.
I am Currently Working on:
Cleaning the original screw driver and oil bottle. Also using the cream and alcohol.
Sanding and varnishing the screwdriver handle.
Next Steps
Bend the further bobbin slide plate into a straighter shape.
Look into the "oil wick". Perhaps replace with new merino wool felt?