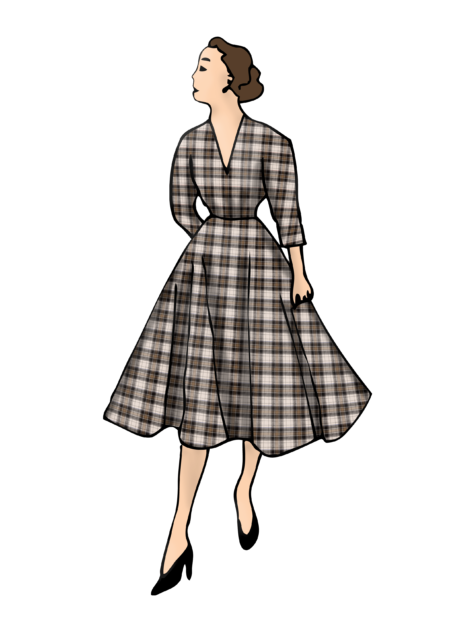 How I Started
I used my "long sleeve bodice block" with a sleeve gusset. I made the following alterations:
Cut the sleeve to a 3/4 length. I measured from the shoulder point to the wrist point on the bodice back, and found the 3/4 distance. I then transferred this length to the bodice front.
Transfer the bust dart to the side through the bust apex.
Remove gaping from the v-neckline by drawing on my 9.5cm bust radius and taking out 1.5cm from the neckline contour line. I transferred the 1.5cm gaping directly into the side bust dart. Maybe I should have transferred this bulk via the bust apex point instead?
The v-neckline is 18.5cm from the centre front waist.
The skirt is a self-drafted half circle.
The fabric is the "Black and Brown Slubby Plaid" from online fabric shop Fabworks. It is a brushed cotton twill.
Finishing Details
Serged seams
Machine hemmed skirt
Invisible Zipper
5cm facing for the v-neckline
Waiting for photos