How to sew applique lace to a silk satin lingerie slip. Couture machine sewing technique.
Tools
Sharp fabric scissors
Small snipping scissors
Needle for hand sewing
Thread for tracing and basting in a contrasting colour to the lace and silk satin
Sewing machine with zigzag stitch
Instructions
Cut out silk pattern piece with a generous seam allowance or more than 1.5cm. Thread trace the seam lines.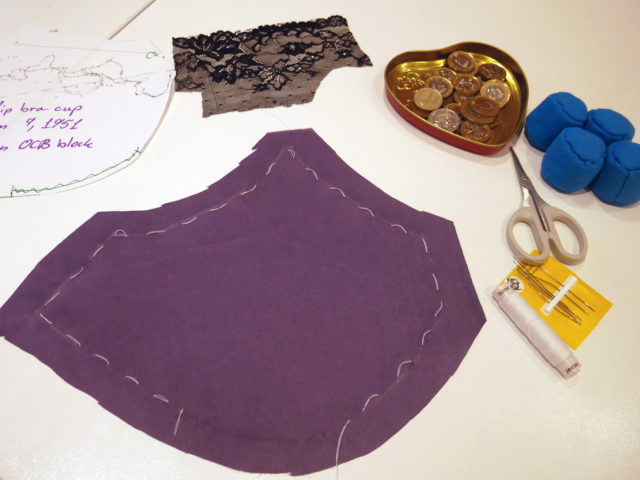 Iron the silk satin and lace. To iron the silk satin, set the iron to the highest temperature and add steam. Do not get water on the silk satin, as it may leave marks. To iron the lace, set the iron to the lowest setting, do not use steam. Place a piece of paper between the lace and the iron.
Before basting the lace to the silk, it is important to make sure that the grain lines on the silk satin are aligned. Double check the grain line alignment at a table, as once the grain lines are straightened, the silk shouldn't be moved until the basting is complete. To align the grain lines, overlay the paper pattern piece over the fabric and match up the thread traced seams to the paper pattern seam lines. Gently remove the paper pattern without moving the silk satin fabric beneath. Weigh down the silk using small fabric weights; 1 pound coins work well.
Now that the grain lines are aligned, place the lace over the silk. Add more small weights (or 1 pound coins) and baste the lace to the silk using a contrasting thread colour.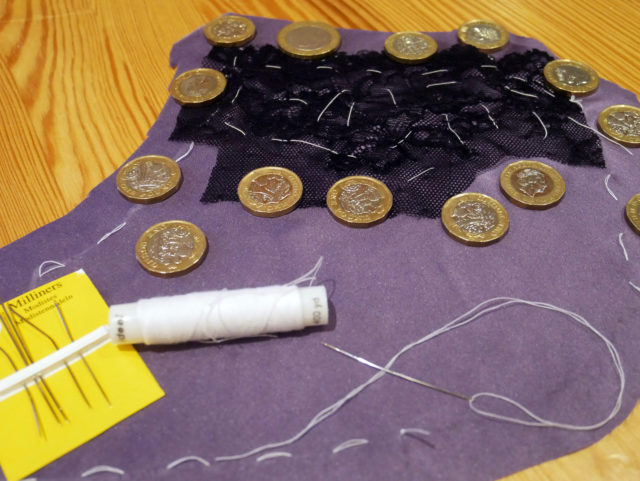 Sewing on the machine
Machine settings:
Remove the presser foot and presser foot holder
Zigzag stitch, width: 1, length: 0
Upper thread tension: 3 (different on various machines)
Presser foot pressure: 0 (free motion sewing setting)
Remove feed dog teeth, or attach a darning plate
Needle size to match delicate fabric: 70
Thread the machine with the top and bobbin threads matching the lace colour
Remember to still lower the presser foot when sewing, even thought there isn't one attached.
To sew, follow the motif on the lace. Choose 2 motif lines to follow. One for where the satin will be cut away from behind to leave a lace hem, and another for where the lace will be cut away from the top to create an applique seam.
Hold the fabric taught outwards when sewing. Move and manipulate the fabric by hand, whilst pressing down on the foot pedal. Keep fingers away from the needle.
Remove the basting stitches and using the small snipping scissors cut away the silk satin from underneath the lace at the hem line. Don't cut too close to the stitching line; leave a small 3mm border of fabric. Then cut the loose lace away from on top of the fabric.