A basic macaron recipe, that once mastered can be modified to many different flavor and filling combinations.
Makes 15 medium macrons, 3cm in diameter, about 130g of unbaked mixture.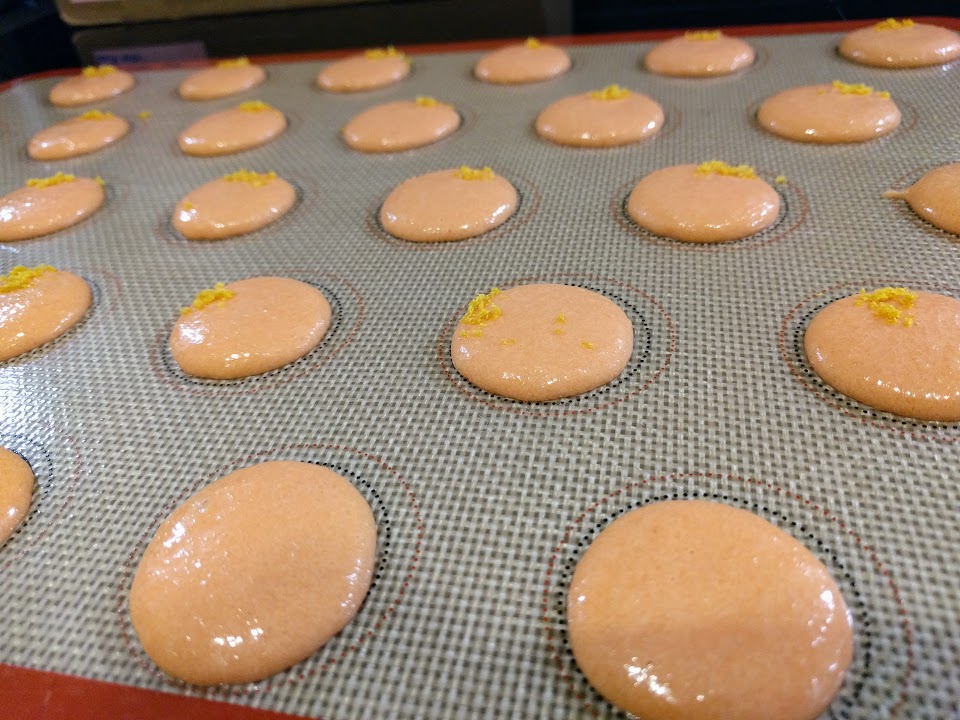 Ingredients:
Wet
Egg white – 1
Cream of Tartar- a pinch (1/16tsp)
Sugar – 25g
Dry
Fine ground almond flour (sifted) – 45g
Icing sugar – 35g
Instructions:
Prepare a silicone baking mat, and piping bag with nozzle. Use a round writing tip between 0.5 -1cm in diameter.
Combining the sifted almond flour and icing sugar in small bowl, and sift together. Add any dry flavour or colour at this time. For every 1/2tsp of powder flavour (such as matcha or cocoa) take our 2tsp of the almond and sugar mix.
Clean the mixing bowl with some vinegar. Start whisking the egg whites, once they are at foamy stage, add the cream of tartar, then the sugar.
At this is the point add any gel food colouring – always add more that you think you need, as when you bake, the colour will fade.
Fold almond and icing sugar into the egg whites.
Now you are ready to pipe onto your baking sheet. See this post for piping tips. Pipe holding the piping bag vertically, and fill your circle templates.
Heat the oven to 120 C Fan. Bang your baking tray on a hard surface to get rid of air bubbles, and use a toothpick to pop any bubbles on the surfaces of the shells if you can see them. Use a wet finger to flatten any pointy tops. Then leave your shells out to air for about 10-20 minutes; until you can smoothly run your finger over the surface.
Bake for 16 minutes. If you added powder colour/flavour, the macarons will need less time in the oven. If you added gel colour/flavour, the macarons will need more time in the oven.
Leave to cool completely before pealing off your baking sheet. Pipe your chosen filling, and sandwich the shells together.
For fillings, flavours and colours see this post.