Basic instructions for taking measurements to use for constructing a formula based bodice block or sloper.
Instructions
Copy out the table below into a notebook, or copy and paste it into a word processor. Remember to also note down the date as it can be useful to refer back to when your measurements were last taken.
Using a flexible measuring tape, follow the instructions in the table to take your measurements. It is easier if you have someone to help. When taking measurements, stand as you would normally; don't straighten up and suck your stomach in as this could result in an ill fitting garment. Take the measurements loosely – it should be possible to fit an extra finger in between your body and the measuring tape.
All measurements should be done in Centimetres. Keep your measurements to 1 decimal place. For the "Final" column, all horizontals are halved, and all verticals are recorded as they are taken.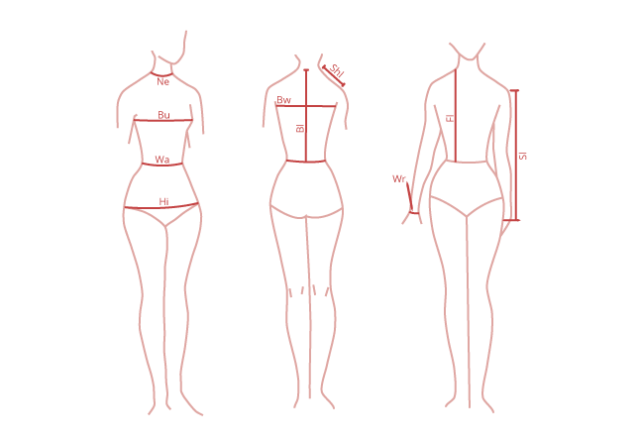 Description

Abbreviation

Measurement

Final

Neck
Take around the base of the neck.
(Ne)
Bust
Take around the fullest part of the bust.
(Bu)
Waist
Bend to the side – this is where your waist is. Make sure you take this measurement loosely, as you can decide later if you want it smaller for a tighter fit.
(Wa)

Hips
Measure around the widest part of where your hips are. This measurement is usually 2-4cm larger than the bust (Bu).
(Hi)

Back Width
Take along the back from underarm to underarm.
(Bw)
Shoulder Length
Take from neck point to shoulder point.
(Shl)
Sleeve Length
Keeping your arm down, measure from the shoulder point to your thumb knuckle.
(Sl)

Wrist
Measure around your wrist, then add 2cm.
(Wr)

Back-Waist Length
Take down the centre back from prominent neck bone to waist line.
(Bl)
Front-Waist Length
Take from side neck point straight down over bust to waist line.
(Fl)
Ease

Ease
You will also need to decide on how much ease you will incorporate. A few mid-century books suggest an ease of 3cm to 5cm for a loose fitting. I prefer taking measurements loosely enough to only need a 1cm ease.